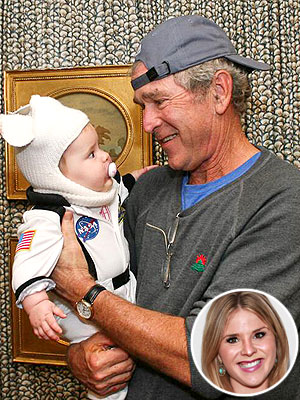 While searching for a very different kind of photo (Don't ask.), I found this picture of former president George W. Bush holding his grandson. I have to say, it melted my heart. All the rage toward him I accumulated since my political awakening of 2004 just disappeared. I was reminded that he's still a human being, endowed with all the foibles, passions and graces endemic to our species.
That isn't to say he isn't a war criminal, because, technically, he is. But it's worth remembering that war criminals are people too. Hating someone, no matter how heinous we find their deeds, is a destructive activity that dehumanizes us as well as the object of our hatred. As the saying goes, "Don't hate the player; hate the game."
In the spirit of that wise, old axiom, I will continue to hate the machinations of the Military-Industrial Complex while trying not to hate the people who carry them out. Besides, what did all our hatred of Dubya get us? A Democratic president whose foreign (and domestic) policies are virtually indistinguishable from his predecessor's and a bunch of Democratic members of Congress who continue to fall in lockstep behind the Power Elite.
Yet we on the Left don't hate Obama or any Democrats with anything like the passion we directed at Dubya. So what does that say about our hate? That it has little to do with reality or effecting beneficial change in the world. Anger can be harnessed to achieve worthwhile goals, but when it turns into Hate, we are the ones who have been harnessed. At that point, Hate is holding the reins, and it has no interest in doing good.